ABOUT NALG CHAMPIONSHIP
Entry to the tournament is open to all left-handed members of their own NALG or NALG Japan. Participants will play 36 holes of Medal Play over 2 different courses. All shots must be played left-handed, no right handed clubs can be carried. There will be 4 divisions, Open, Senior(+60), Super senior(+70) and Ladies.
The 22nd NALG Japan Tournament in Karuizawa
CHAMPIONSHIP OUTLINEUP DATE:2015.05.01
The 22nd NALG Japan Tournament in Karuizawa
DateSeptember 27-29 2015
VenueKaruizawa 72 Golf East Course
AccommodationKaruizawa Prince Hotel West
Entry fee¥33,000 including 2 dinner and prize
Play fee¥17,000 for 1 play including caddy and buggy
Lodging feeSGL ¥18,500 TWN ¥11800 per person and night with breakfast
Closing date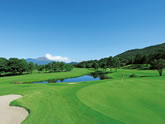 Karuizawa 72 Golf East Course
2015 The 22nd NALG Japan Championship,
Karuizawa, Nagano
The 22nd NALG Japan Championship will be held in Karuizawa, Nagano Prefecture in September 2015. Nagano Prefecture is located in the central part of the main island of Japan surrounded by North and South Japan Alps.
The courses are Karuizawa 72 Golf East course located in the beautiful resort area. Karuizawa 72 Golf is one of the most prestegious and popular golf courses in Japan. You can enjoy playing golf in the crisp air even in hot and humid September due to the elevation.
Those who do not play golf can enjoy shopping in a town and walking in nature. There are good restaurants in a walking distance from the hotel. We will welcome all lefty friends from around the world, especially from our neighbors,Taiwan and Korea. We are looking forward to seeing you in the tournament!!
Tournament Schedule
Date:  September 27(Mon)-29(Wed), 2015
Host: NALG Japan, Nagano Branch
Golf courses: Karuizawa 72 Golf East course  ( play in Iriyama and Oshidate course)
Price: JPY17,000 per 1play including caddy and tax)
Entry Fee;  Lefty    JPY15,000         Partner  JPY14,000
Welcome Party;      JPY9,000 (27th Sep. 18:30〜20:30)
Get Together Party;  JPY9.000 (28th Sep. 18:00〜20:00)
Hotel: Karuizawa Prince Hotel West (per person and night including breakfast)
Single Occupancy   JPY18,500
Double Occupancy  JPY11,800
Cottage            JPY9,000 (shared by 4 persons)
FOR ON ENTRY FORM
Those who would like to enter the tournament, please use an entry form below. We will send you a detailed information.